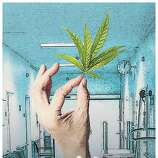 Image 1of/1
Caption
Close
Image 1 of 1
Photo illustration by Jeff Boyer / Times Union
Photo illustration by Jeff Boyer / Times Union
Editorial: Modern reefer madness
Back to Gallery
THE ISSUE:
New studies suggest that relaxed marijuana laws help reduce opioid use.
THE STAKES:
Empirical evidence and a national opioid addiction crisis demand re-examining decades-old laws and assumptions.
—
There is growing evidence that marijuana could help people deal with chronic pain without turning to the highly addictive opioids that are feeding a crisis across the United States. But doctors' and researchers' hands are tied by state and federal laws that remain stuck in a Reefer Madness era.
In New York, where more than 3,600 people died